Folk & Fusion Baithak
AJAB ISHQ, maati da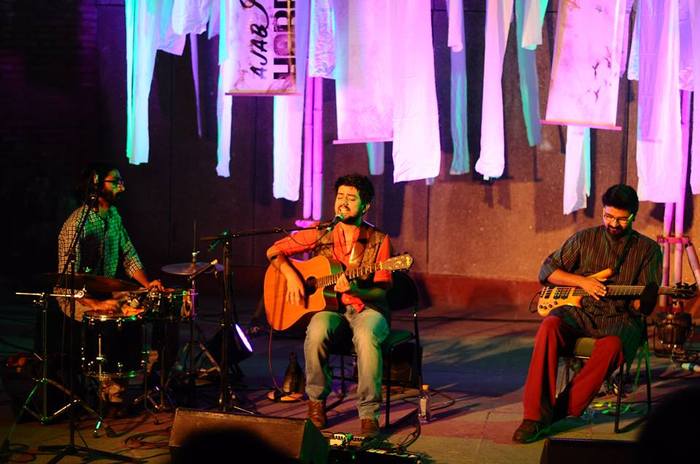 AJAB ISHQ maati da, is a tribute to the diversity of languages and cultures of India.
Composed by Harpreet, each song is an enquiry into life and its mysteries. The music shows the way to deeper truths and awakenings through invoking the divine in nature and in ourselves. It is a heartfelt and touching exploration of ancient wisdom and contemporary possibilities through his own songwriting as well as through the works of masters such as Baba Bullehshah, Nirala, and others.
The team also includes Anirbaan Ghosh (Baan) on Bass guitar. Both of them are senior musicians and the duo is received really well by the audience.
The soulful music is sure to mesmerize you!


About the Artists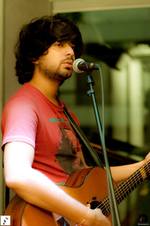 Harpreet is a self taught guitarist, Singer, Song writer and a Composer. His music in essence forms a bridge, an offering to his generation, to walk the path to a deeper life, to perspectives that can be transformative. He is fascinated by the languages of his country, India. His work encompasses Hindi, Punjabi, Urdu, Bengali and Rajasthani.
Baan is an immensely talented musician, who is also a visionary for arts practices and cultural policy in the country. He plays the bass guitar with Rabbi Shergill, Susmit Sen Chronicles, Harpreet, Grey Area, Samarpan, and Flashback, to name a few. A versatile musician who can play fusion to rock with equal prowess, his passion lies in playing jazz. With an executive course from IIM Lucknow and an undergrad degree in IT from Delhi University (B.IT), he has also been a part of a number of entrepreneurial ventures—all in the field of arts and education. He was a finalist in British Council's Young Entrepreneur Award in the year 2010. He has been a Bill and Melinda Gates foundation fellow in Leadership and Innovation and a fellow of the Royal Society of Arts (RSA), UK. Currently he is also a part of the ArtThink South Asia Fellowship, as a part of which he is developing the Arts Innovation Lab—an ecosystem for arts practitioners and arts organizations in the country.
Event Details
Sunday, 6 September
6:30 PM - 8:00 PM
(Followed by Dinner)



This is a Private Gathering and a Free Concert. Donation to the Artists are Welcome.





You are invited to dinner after the concert at a subsidized contribution





For reservations for concert and/or dinner:
07827706109
09311131096
radiate@zorbathebuddha.org
Book Early! Only 50 Seats Available!